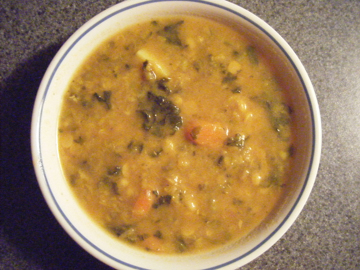 This soup is easy to make, cooks quickly, and is great with a good bread and a salad
Ingredients:
2/3 cup dried split red lentils
1/3 cup dried mung beans
1/3 cup dried chana or split peas
2 small potatoes cut into small cubes
4 mini carrots cut into 4-5 pieces each
3 chopped fresh tomatoes (skinned or not)
1 tsp turmeric
1 tsp chili powder
5 cups water
1 tsp. sambar masala
1 cup spinach
1 Tbs. ghee
1 tsp. salt (add more after offered if not enough)
Procedure:
In a stock pot add the first 8 ingredients to 5 cups water. Simmer for 15-20 minutes or until the split peas are cooked through. The other two beans will cook faster. When all the dal beans are cooked, add the sambar and spinach.
In a small fry pan melt ghee. Add cumin seeds and fry briefly until they change to a darker color. Pour ghee with cumin over dal, and add salt.
Notes:
If you do not have all three dal beans listed, you can make this dal using just one or two of them. Whole Foods has all three of these dals, as do Indian groceries.
Ghee. Even though there is only a tablespoon of ghee in this recipe, it is an important ingredient. Can you make this dal without it and it will be good, but the ghee makes it taste very hearty and robust. Ghee is available from some grocery stores in the Indian foods section or at Whole Foods or an Indian grocery.
Sambar Masala is a spice blend that is available at Indian stores. It can be used in many other recipes, like curries.