Walk into the Bhakti Center just minutes from the University of Virginia grounds and you'll find yourself in a cozy, welcoming place that a growing number of people identify as their home away from home, a spiritual oasis.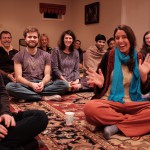 On Sunday evenings a mixture of mostly students, a few faculty, and some local community members from all backgrounds fill the Center for kirtan, a practical talk based on the Bhagavad-gita, a free vegetarian dinner, and conversations about living a conscious life. For the students who attend, it is at once a spiritual retreat, a warm family-like environment, and space to talk about how to live consciously and deliberately in a world that increasingly encourages the opposite. The Center includes a comfortable lounge where guests can relax to chat, watch a spiritual video, or peruse the library and read.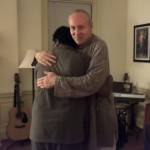 The Bhakti Center is home to the Bhakti Yoga Club, an official UVA CIO for over 20 years. Scores of students have benefitted from the introduction to Bhakti Yoga philosophy and the supportive family atmosphere the directors and members foster.
Rides are available from Grounds, and everything is always free of charge.
[Continue reading]